David Hibbard: Is currently in Something Rotten on Broadway in the role of Francis/Eyepatch Man & dancing nightly while trying to remember his lines for the four other roles he understudies. Nick Bottom/Nostradamus/Shylock and Lord Clapham. Previously he was seem on Broadway in ELF the Musical as Matthews. Other Broadway credits include the 10 time Tony Award winning production of Billy Elliot both on Broadway and the second national tour. His mark on 'the Great White Way' is completing 2,197 performances in Broadway's CATS, in the coveted role of the Rum Tum Tugger. (website YouTube Today Show live clip). Other Broadway credits include Patsy, in Monty Python's smash hit Spamalot, (website thanksgiving day parade clip) , The Jester, in the revival of Once Upon A Mattress starring Sarah Jessica Parker, (cast album RCA victor) and creating the role of Bobby/Michael Bennett in A Class Act, (cast album RCA victor), which he recreated the following summer in Tokyo.

David was thrilled to be a part of A Class Act's journey, which started around a table at Musical Theatre Works and fulfilled a life long dream: to create an original role in a Broadway musical. A Class Act was a critical success, earning five Tony nominations (see youtube 55th Tony Awards A Class Act).

David has also performed in Encores! Production of Can Can starring Patti Lupone, and in the world premiere of Maury Yeston's adaptation of Frank Loesser's Hans Christian Anderson. Off-Broadway he was seen in Chess, Forbidden Broadway Strikes Back! and Lincoln Center's benefit of Anything Goes, also starring Patti Lupone.

Some of the regional theatres around the country in which he have performed include Pittsburgh Civic Light Opera, St. Louis Muny, Nothshore Music Theatre, Kansas City Starlight, Artpark, Theatre by the Sea, and the Guthrie theatre. Concert work includes Waterbury Symphony and Pittsburgh Symphony Pops tribute to Gene Kelly, conducted by Marvin Hamlisch, and starring Donna Mckechnie.

David's voice can be heard on numerous television and radio commercials hawking everything from investments to chewing gum. He was the narrator for the Bravo series Page To Screen and also performed numerous cable TV narrations on the History Channel to the Travel Channel. He holds a Music Education degree from Ohio State University, and since 1999 has devoted most of his time to his first passion, teaching vocal performance and audition technique, at CAP21 studios, part of NYU's Tish School of the Arts.
click here to download David's resumé
My first headshot: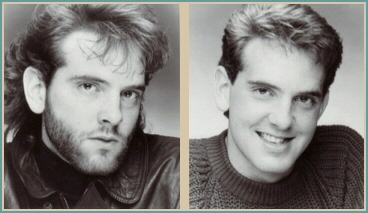 Voiceover reel: